Medium batch - Brake handle – HPP
---
Injection moulding vs Pam technology.
The first benefit of producing with a Pam 3D printer factory is that first parts are available the day after design delivery.
It allows proceeding to very quick quality tests and validate geometry and material of the part. Quality issues can be addressed very soon and design improvements are easy to implement.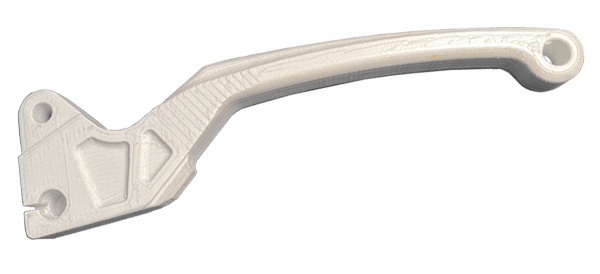 With Pam 3D printers, one brake handle is printed in 4 hours with a printing profile using 0.4 mm nozzle and 0.2 mm layer height. 4 parts can be printed in a cycle of 12 hours per Pam system.

Regarding material cost, Pam technology is using the same material as the injection moulding. A part will have the same material cost on both equipment.
We are considering the following data:
- Hourly rate: 35 $/hrs;
- Defects rate: 3% for both equipment;
- Effective working time of 10 minutes per cycle with Pam 3D printers;
- Injection moulding is working with one operator per cycle of 8 hours, 3 cycles are made per day.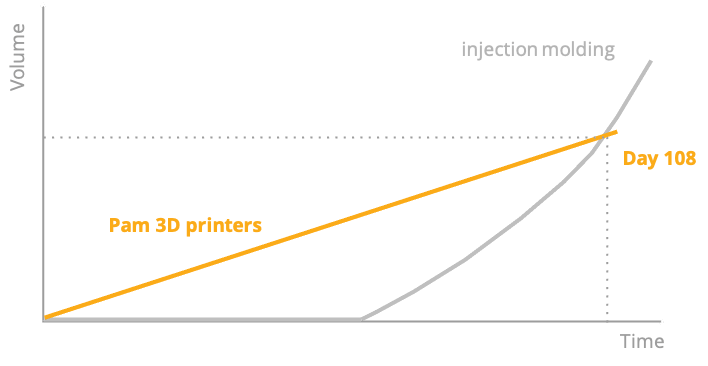 As a result we determine that, with a Pam factory composed of 8 Pams systems, Pam technology is cost-effective up to 12 000 parts and is more productive than injection moulding during the first 118 days after design delivery, which represent 7 600 parts.
Let's dive into the possibilities offered by PAM
---
From pellets to object, PAM technology offers the most direct process to high performances end-parts.
Metals Ceramics Commodity Elastomers Performance High Performance.