3D printing filled material
---
Polyamide 6.66 with 15% of Carbon fiber.
The openness of Pam 3D printers and its adaptability makes it possible to transform a wide variety of filled materials.
By adapting the size of the nozzle according to the rate and size of the fillers, a Pam system allows the printing of up to 60% filled material.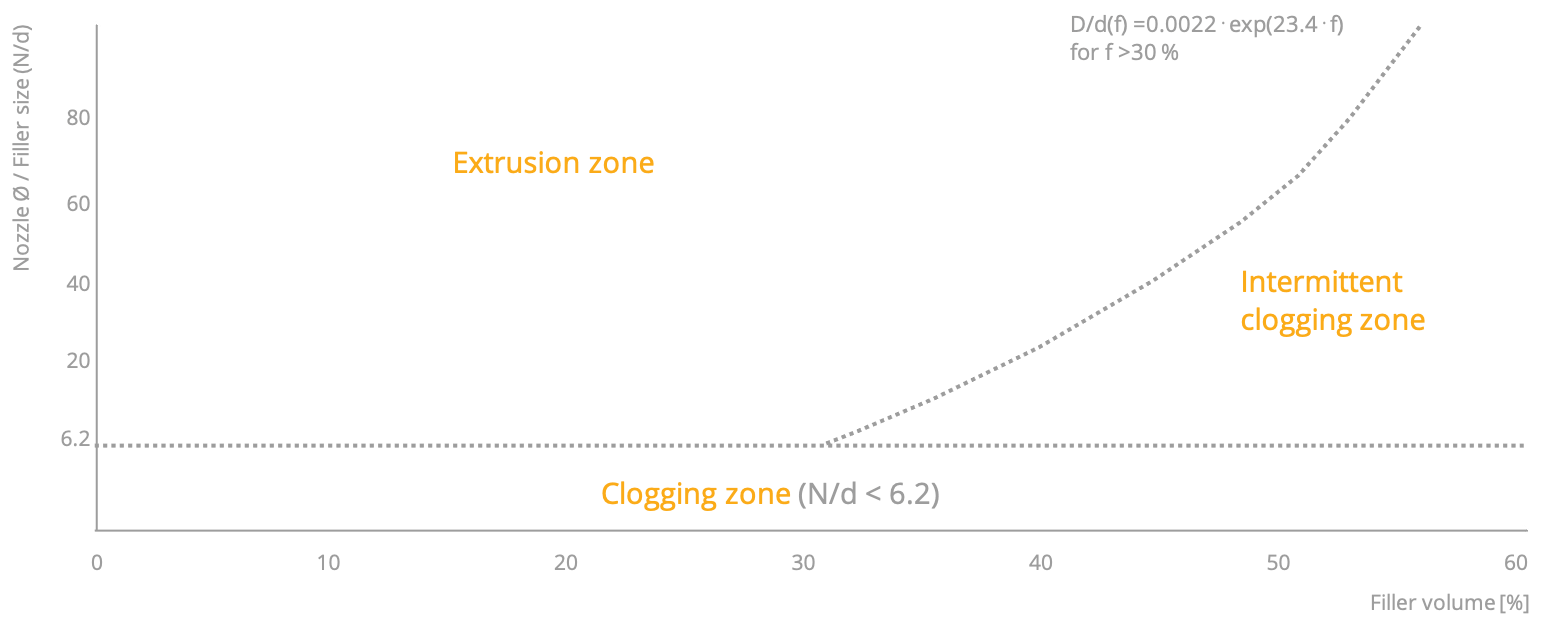 Extrusion range according to the evolution of
the nozzle diameter/charge size ratio as a function of the charge rate.

The material qualification phase determines the resolutions that will be achievable for a given material. Then the profile development phase corresponds to the technical fine-tuning to determine the printing parameters that will allow a quality, robust and repeatable print.

Pollen AM's experience has established the influence of parameters such as nozzle diameter, rate and average charge size on extrusion.

Reading the graph above, the following rules can be determined when setting up a print profile for a loaded material:
- The finest resolution can be achieved with a nozzle diameter of about 6 times the average charge size;
- From a filler content of more than 30%, the extrudability frontier changes exponentially with ever-larger diameters to avoid nozzle clogging.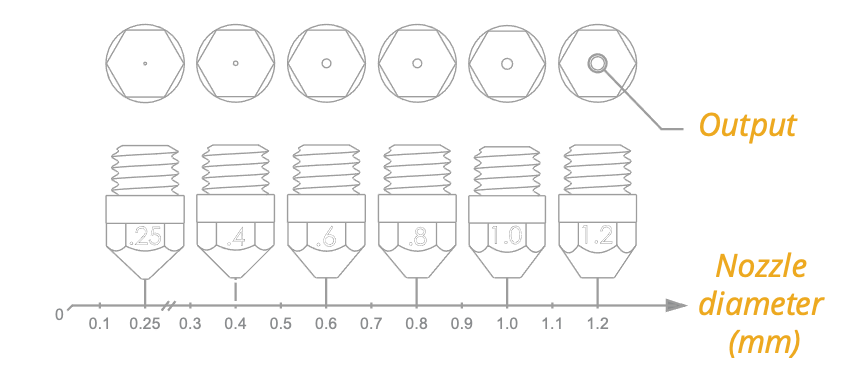 Pollen AM offers nozzles from 0.25 to 1.2 mm as standard. It is also possible to develop a specific nozzle size up to 3 mm for a system configuration tailored to the material being processed.
The presence of a filler within the material increases under abrasivity and requires the use of steel outlet nozzles for better abrasion resistance. Other materials are currently under development to support the most abrasive loads.
Recent work on a polyamide 6-66 with a 15% carbon fiber illustrates the potential of the Pam system with filled materials.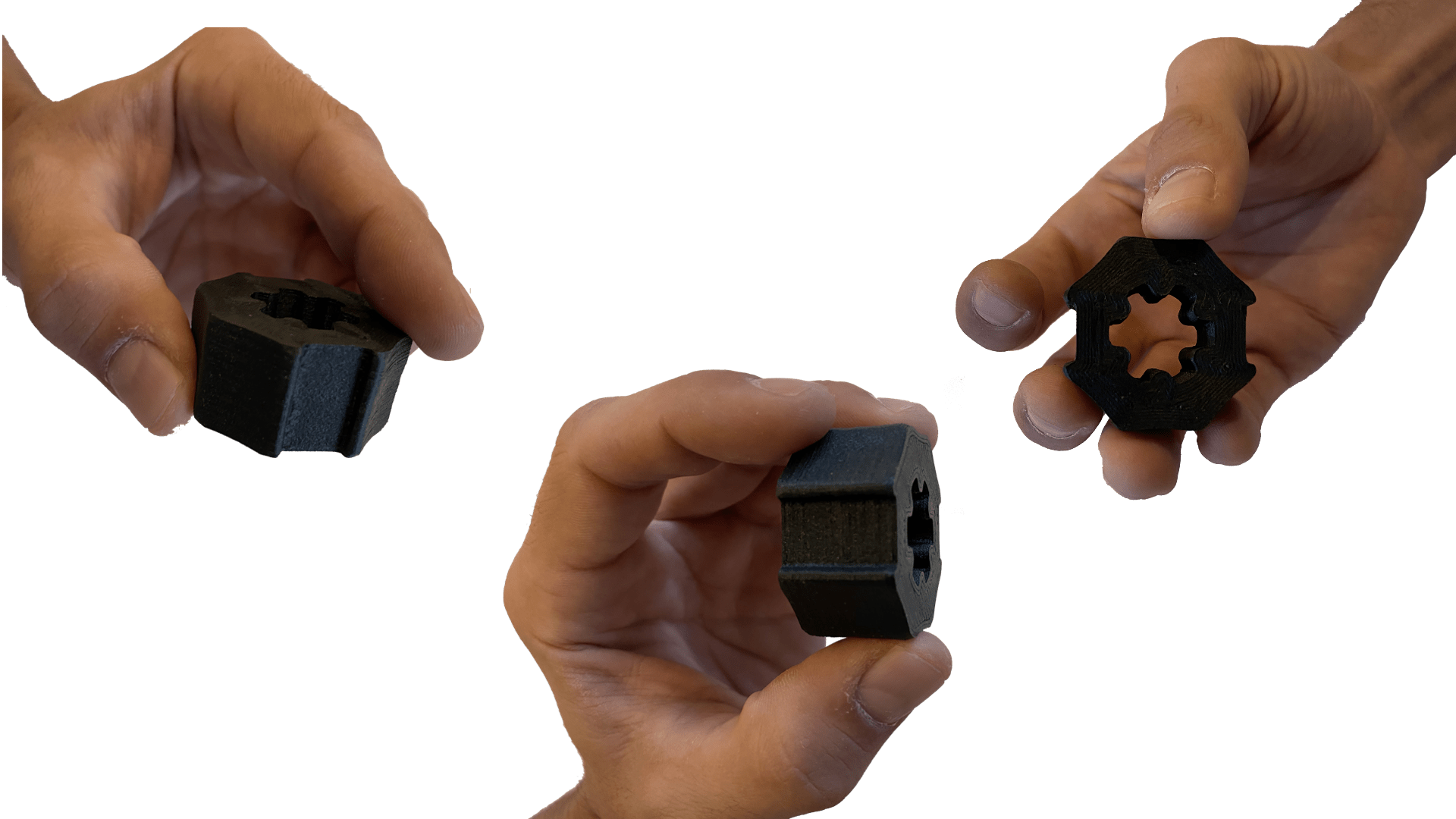 This material is supplied by Lehvoss and referenced as Luvocom 3F PAHT CF 9742 BK. Its transformation did not require the use of the heating chamber or temperature radiant.
The material can be processed on a New Pam Series P 3D printer.
PAHT is used for its strength and rigidity. Compared to PA 66, the influence of temperature and humidity on the electrical properties is small.
It is used, in particular, in the automotive industry for the manufacture of finished parts or the production of manufacturing or assembly tools.
What you need to remember:
| | |
| --- | --- |
| | The size of the nozzles must be adapted according to the rate and size of the fillers in order to reduce the risk of clogging; |
| | Under 30% charge, to avoid nozzle clogging, the nozzle must have a diameter greater than 6 times the average size of the charge; |
| | The abrasiveness of the load requires the use of steel nozzles. |
Let's dive into the possibilities offered by PAM
---
From pellets to object, PAM technology offers the most direct process to high performances end-parts.
Metals Ceramics Commodity Elastomers Performance High Performance.