Production

Advance additive manufacturing
Extend your business
Cost-effective solution
Industrial tooling

Small & medium batches
More agility and flexibility

Conventional means of production as injection molding are not adapted for small and medium-size production. Tooling and process cost restrain rentability and don't offer attractive conditions for equipped companies.

Pollen AM offers a cost-effective solution without extra tooling to companies that wish to extend their business by responding to requests for limited production.

Discuss with our experts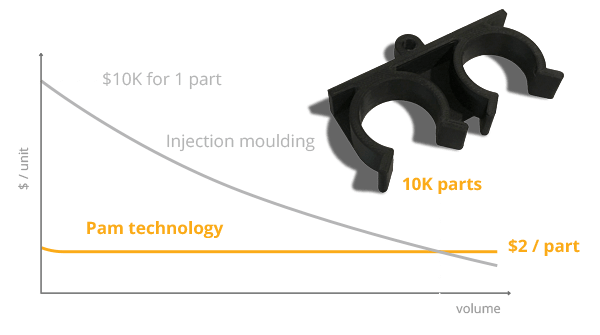 Support to industrialisation A complementary technology

The use of additive manufacturing with the right material secures the industrialisation phase.

Delivering firsts parts made with Pam relieves the ramp-up and secure the development of the industrial tools that will produce at series rate.
Discuss with our experts
Tools & fixtures
Greater autonomy

Additive manufacturing offers new opportunities for tooling design with attractive production lead time to support industrial plant.

Pam technology is able to produce cost effective tooling made in material perfectly adapted to your applications. Design freedom combine with a productive equipment offer great opportunity to improve the plant's autonomy in production management.
Discuss with our experts
Unchanged supply chain
Integration in production lines

By using the same material as conventional means of production, Pam systems allow to integrate additive manufacturing into the plant without impact on the supply chain.

The freedom of procurement allows a better management of the procurement chain.
Discuss with our experts Time to market reduction

Ready for scaling

3D printing agility significantly reduces time to market. The absence of tooling to develop and the use of the desired material contribute to enhancing industrial reactivity.

In addition, the granular format is experiencing a significant innovation dynamic. As a result new available materials can be integrated as quickly as possible to manufacture new innovative parts.
Discuss with our experts