Metal feedstocks
---
Sourced from key leaders.
Pam Series MC can print most of the existing Metal Injection Moulding feedstocks. You have the choice to pick the one your industry is familiar with.
Metal applications matter to the most demanding industries when very high mechanical and thermal properties are required.

The large majority of MiM feedstock are based on catalytic binder systems or on water-soluble binder systems. They allow the production of complex metal components and meet high quality requirements.

Using standard MiM feedstock with Pam Technology particularly makes sense for industries already used to them. Existing grades can be printed as-is at their unbeatable high volume price just like in injection moulding. Used raw material, or feedstock PiM, is a mix of fine powder and thermoplastic binder, pelletised.
PIM feedstock classification
---
From typical alloys to superalloys.
Pam Series MC is a 3D printer dedicated to print industrial PIM feedstocks; from metals to technical ceramics.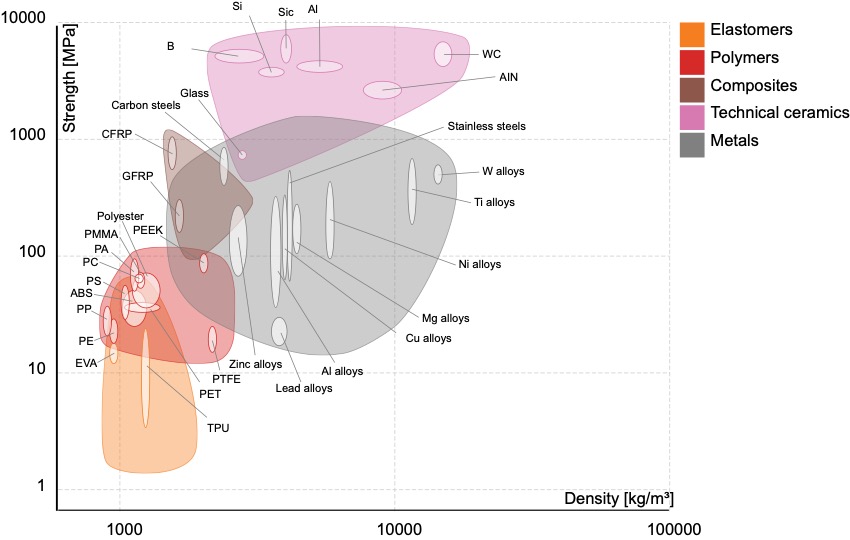 Pam Series MC is open to materials, consumables are widely available in their industrial format, the pellets. It is this technological difference that gives access to the widest library of MiM materials on the market.
Almost all the metal alloys that can be atomized in powder form can be treated with PiM process and therefore with Pam.

These metal alloys can be classified into four categories:
- Ferrous alloys: steels, stainless steels, tool steels, magnetic iron-nickel alloys and special ferrous alloys;
- Tungsten alloys: heavy alloys of tungsten and tungsten-copper;
- Hard materials: cemented carbides (tungsten carbide) and cermets (composite material composed of a ceramic reinforcement and a metallic matrix);
- Special materials including precious metals (silver, copper, gold, etc.), titanium alloys, aluminium, chromium-cobalt, nickel, nickel-based superalloys, molybdenum, and particulate composites.

As a dedicated technology inspired by micro-extrusion techniques, Pam Technology is meant to 3D print most kinds of MiM feedstocks.

Materials are usually classified into different categories according to their nature and their mechanical properties such as their Young's modulus, etc.
Discover Metal and Ceramic 3D printed parts
---