Non-oxide ceramics
---
Low coefficient of thermal expansion
The most common are carbides such as SiC, the transition metal carbides TiC, ZrC, HfC as well as VxC, NbxC, TaxC, MoxC, WxC and nitrides such as Si3N4, AlN, TiN, etc.
Overall , these materials will have high hardness (B4C, TiC, SiC, WC, etc.), low toughness compared to that of metals and alloys (generally <10 MPa.m2) reflecting their brittleness and very good resistance to corrosion and wear.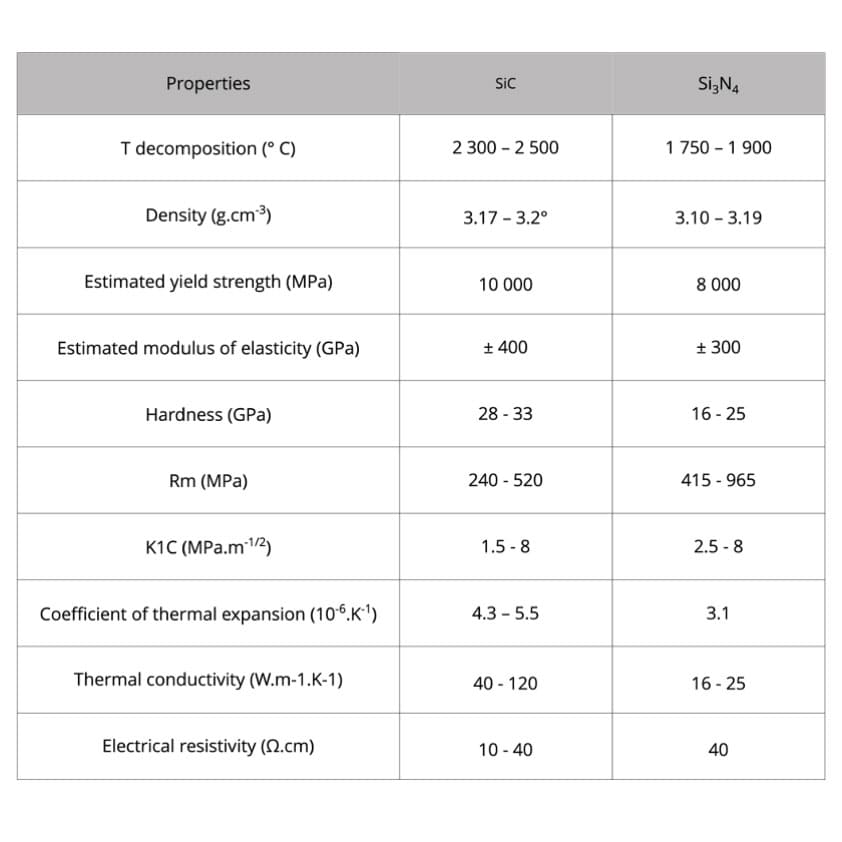 At high temperature, they have a mechanical resistance which can be higher than that of common metals and alloys, good resistance to creep and to oxidation (especially Si3N4). From the point of view of thermal characteristics, they have a very low coefficient of thermal expansion (especially SiC) and a more or less high thermal conductivity depending on the type of material (that of AlN is high).

The properties depend on the processing methods which control grain size, porosity, characteristics of the grain boundaries.

Some applications of non-oxide ceramics: abrasives (SiC), valves and fittings (Al2O3, SiC), bearings and friction parts for the automobile (Si3N4), grinding parts (SiC, Si3N4, WC), sandblasting nozzles ( SiC, W2C, Al2O3), dispersing agents in polymer matrix composites for anti-abrasive applications (SiC, Si3N4), shields (B4C, SiC, BN-SiC, ZrC-TiB2), high temperature components in nuclear reactors (B4C, SiC, ZrC), large space mirrors (SiC) with a weight gain of 5 compared to glass, high temperature heat exchangers (Si3N4, SiC), cosmetics industry (BN), power electronics (SiC , AlN), cutting tools (cermets - ceramic-metal - based on WC or TiN, SiC, SiAlON, etc.).


Discover Metal and Ceramic 3D printed parts
---