PiM & PiM-like

Processes design principles
Every manufacturing process has its how design principles and guidelines. Using pellet PiM-Like technologies as a complement of PiM process requires to take into account some design rules to optimize the parts to produce for both processes. The objective of this note is to present the main principles to follow.

Maximum and minimum part sizes – Shapes - Wall thickness - Corners and radii – Undercuts – Threads – Reinforces - Sintering supports - 3D printing guidelines
---
Size of the parts
As MiM implies injection moulding like for plastics, as a rule of thumb any shape which can be produced with the latter materials can be obtained with MiM. Nevertheless, MiM feedstocks have different properties that may limit feasibility.
The table shows some "absolute" limits achieved to date with MiM in its various versions, these are not the current safe size limits for all MiM houses, so practical limits are much closer to the typical values listed.

The size of parts is mainly limited to the shaping production means itself. The size of the mould and the build-plate volume will directly influence the maximum size (L x W x H). Nevertheless, it is important to take into account that the maximum component size is limited above all by economic factors:
- the larger the part, the higher is the overall cost (the raw material);
- long debinding times with thick sections.

The limits on the maximum size of the parts which can be produced are after all economical, and in particular the larger the part, the higher the overall cost.
---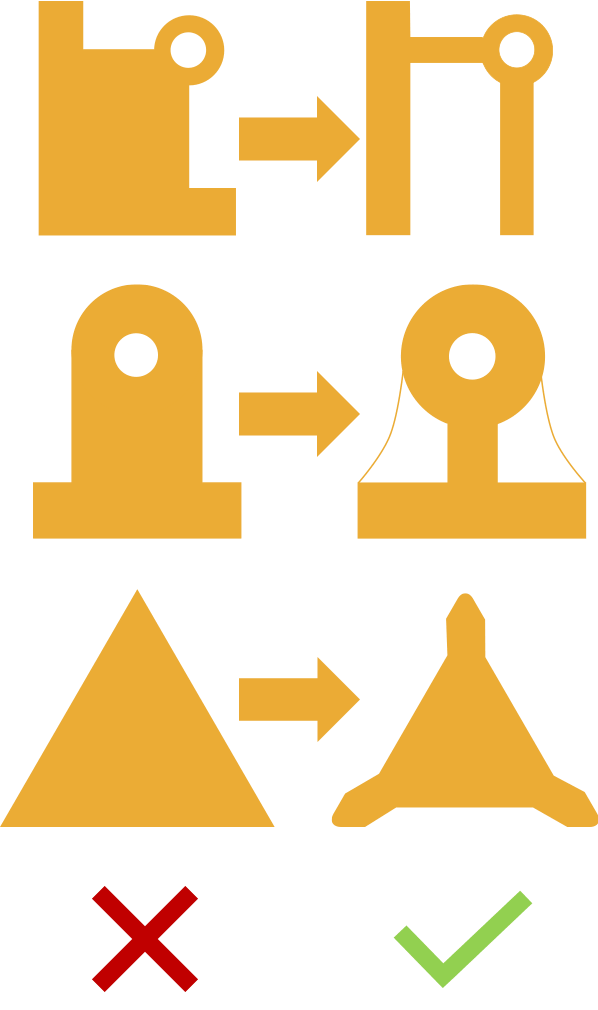 Shapes
Design modifications from existing shapes (usually optimized for machining, or for casting) are required, to ease the production process and to obtain parts with better properties, keeping the same functional features.


Constant section thickness
- Minimization of distortion;
- Enhancement of debinding speed.
Use of a rib
- Providing of support structure;
- Mass reduction.
Corners adjusting
- Replacement of sharp corners with rounded corners to reduce the "notch" effect;
- Mass reduction.
Coring allows maintaining a constant section thickness, minimizing distortion and speeding up the debinding process. In some cases section thickness cannot always be held constant: if this is not possible, at least the ratio between maximum thickness and minimum thickness in the part should be kept as low as 2 or even lower.
The use of a rib provides support and reduce part weight, with less material (cost reduction), and less wall thickness (faster debinding) it is possible to have sufficient stiffness in the final part and in the intermediate stages of the process, where deformations may happen.
---
Wall thickness
A uniform thickness ensures optimal heat transport in processing and minimizes defects due to variations in shrinkage during sintering.

Thick walls are in use, but present problems due to slower debinding process.

The transitions between thick and thin surfaces must be smooth, to minimize differential stresses between the sections during heating. One method used to attain uniform wall thickness is coring, which helps to reduce material cost and processing time.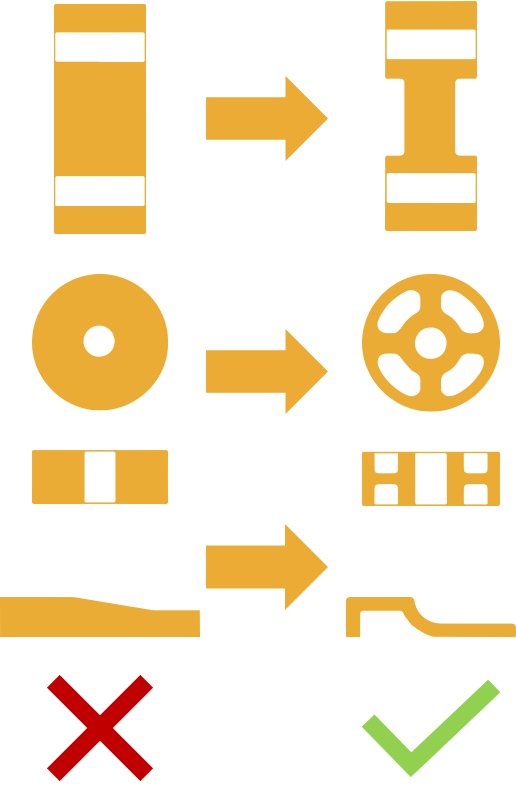 ---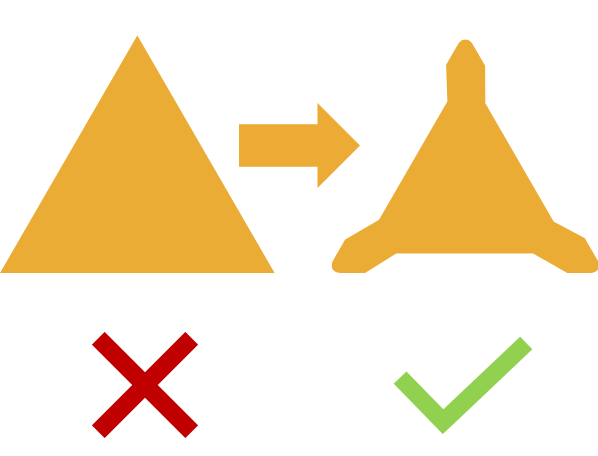 Corners and Radii
Curved surfaces are easily obtainable with MiM, but minimum size limits are due to particle dimensions.
As the powders usually have a mean diameter of about 10 μm and to achieve a reasonably round surface it is advisable to have minimum radii 10 to 20 times the particle size, this means that 0.1 mm is the smallest normally achievable and 0.2 mm is safer.
In injection moulding, sharp corners are avoided because, it is difficult to machine (and keep sharp during production) in fact it disturbs the flow into the mould in protruding cores and to facilitate demoulding.
Sharper edges should be machined or grounded after sintering.
---
Undercuts
In classical injection moulding process, undercuts increase tooling costs, but, on the other hand, they allow to eliminate the costs related with removing the burr on the parts as a secondary operation.

Sometimes undercuts could be obtained by placing a preformed plastic insert into the cavity, filling the mould with the feedstock and then dissolving the insert to leave a cavity.
It is also possible to mould two separate parts that can be later co-sintered to create the undercut. These two solutions are not straightforward and require a development step before production.

In 3D printing they do not require specific tooling investment and parts can be produced as is with no economic constraints.

1 - External undercuts can be easily produced in injection moulding & 3D printing;

2 - Internal undercuts that can be created by a side are adapted to injection moulding & 3D printing;

3 - Internal undercuts that requires colapside core is more complex to produce in injection moulding, but not for 3D printing.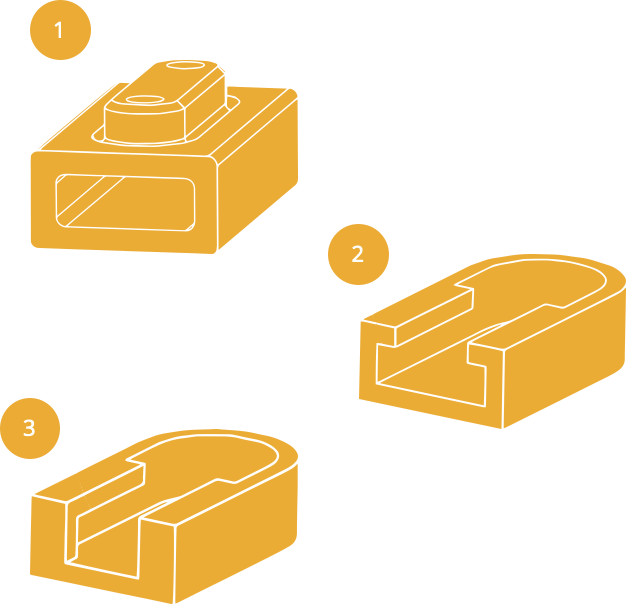 ---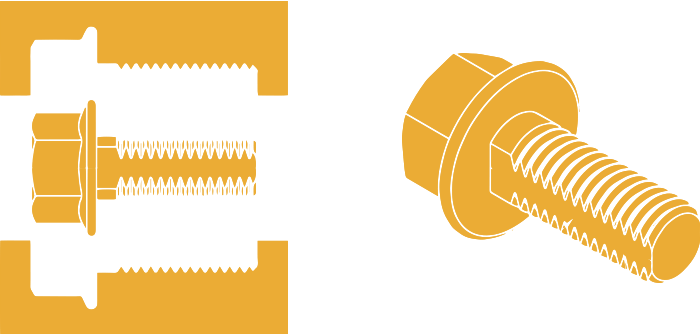 Threads
Threads can be directly moulded into the part, eliminating the need for mechanical thread-forming operations.
Nevertheless, due to the cost of the mould it is mainly applicable to high volume production. For lower volume parts applications, conventional tapping operations should be employed.

In 3D printing, producing threads is possible, but requires high resolution printing parameters and will increase the production time.
---
Ribs & webs
These elements can be used to increase the part strength, and to minimize the different dimensional variations caused by the shrinkage which occurs during debinding and sintering.
The usage of ribs and webs also improve the moulding process and provide better dimensional control, part and walls collapsing during sintering (due to gravity).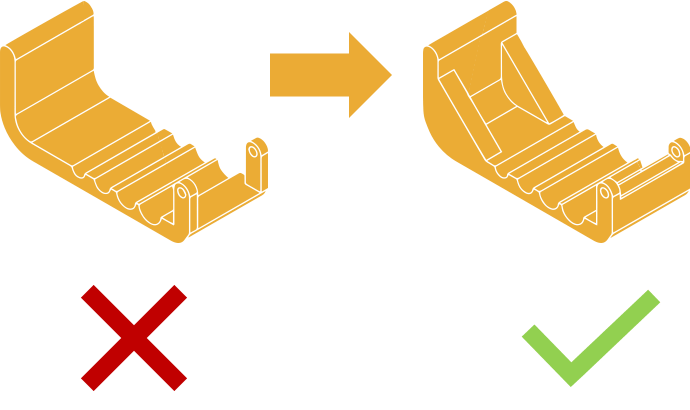 ---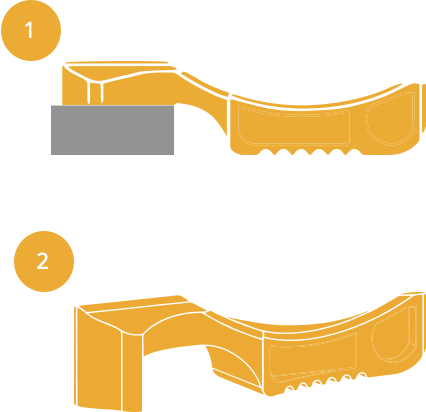 Sintering
Sintering involves a period of time during which the part is weaker, being subjected to heavy diffusion flows and even often with a fraction of liquid phase.
During this step, gravity may be a sufficient driving force for deformation, and so sometimes special care has to be taken in order to minimize distortion.
At the designing stage:
- redesign part to a flat side useful for sintering (also helps during debinding);
- use co-sintering MiM supports;
- use special ceramic fixtures.

The first solution is usually cheap, others add cost to part cost.

1 - Unstable part with overhang elements, using ceramic support structure.
2 - Possible redesign to avoid overhangs and sintering support structure.

A special part dedicated to sintering support made with the same PiM feedstock as the structure part can be produced. These parts will be been sintered together to avoid distortions and collapse of the structure part. The support will be removed after sintering. The advantage of using the same material it that both parts will have the same behaviour during debinding and sintering (same process and same shrinkage). For some parts using a support sintering structure can also avoid the friction between the structure part and the sintering plate.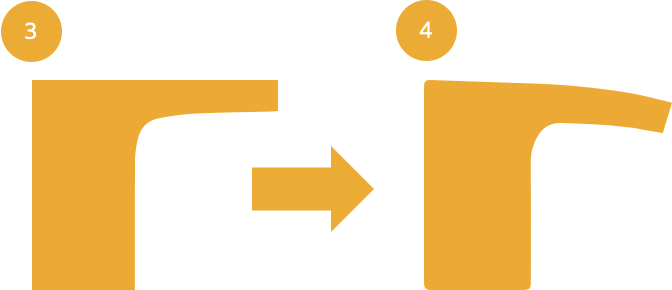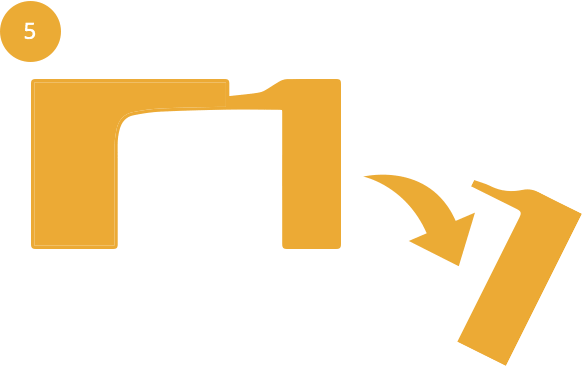 3 - Green part;
4 - Sintered part, with a slumping defect;
5 - Using a support sintering structure will avoid slumping defects.



6 - Unstable part with no flat element;
7 - Possible redesign to add flat elements, to have a sufficiently wide flat surface for sintering.

Another solution is the use of special ceramic material.
In this case, the fixture is not shrinking, the part will shrink onto it, and some specially critical dimension can be controlled very tightly.

These solutions imply scraps (sintered material that will not be sold) or special shaped ceramics (usually alumina), thus adding cost to the parts.


---
PiM-Like
Focus on 3D printing design principles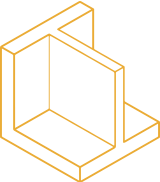 Walls that are connected to the rest of the print on at least two sides.
Minimum recommended thickness: 0.8 mm.
> Download the summary sheet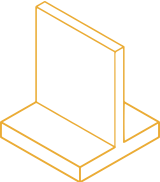 Unsupported walls are connected to the rest of the print on fewer than two sides.
Minimum recommended thickness: 0.8 mm.
> Download the summary sheet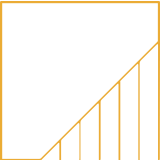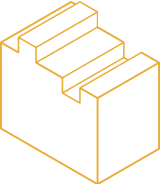 Features on the model that are raised or recessed below the model surface.
Minimum recommended dimensions: 0.6 mm wide & 2 mm high.
> Download the summary sheet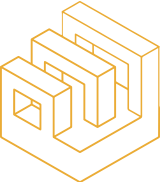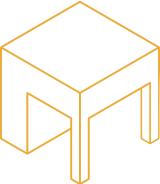 The recommended minimum size of a feature to ensure it will not fail to print.
Minimum recomme nded size: 2 mm.
> Download the summary sheet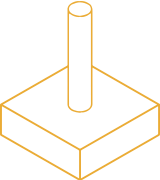 The minimum diameter of escape holes to allow for the removal of build material.
Minimum recommended hole size: 4 mm.
> Download the summary sheet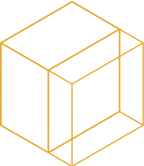 The expected tolerance (dimensional accuracy) of a specific technology.
General data: ±0.5% (lower limit ±0.5 mm).
> Download the summary sheet