Heat treatment
---
As cast or wrought metal parts, MiM & MiM-Like parts can be heat treated to increase strength, hardness and wear resistance with similar results.
The degree of hardening is determined by the percentages of carbon, alloying elements, and residual porosity in the material.

The most common heating operations are, resintering, through hardening, case hardening, tempering, etc.
The part thus produced is a preform, called "green part". The level of binder contained in the green parts varies according to its chemical nature and the powders used; the percentage of binder is generally between 35 and 50% by volume.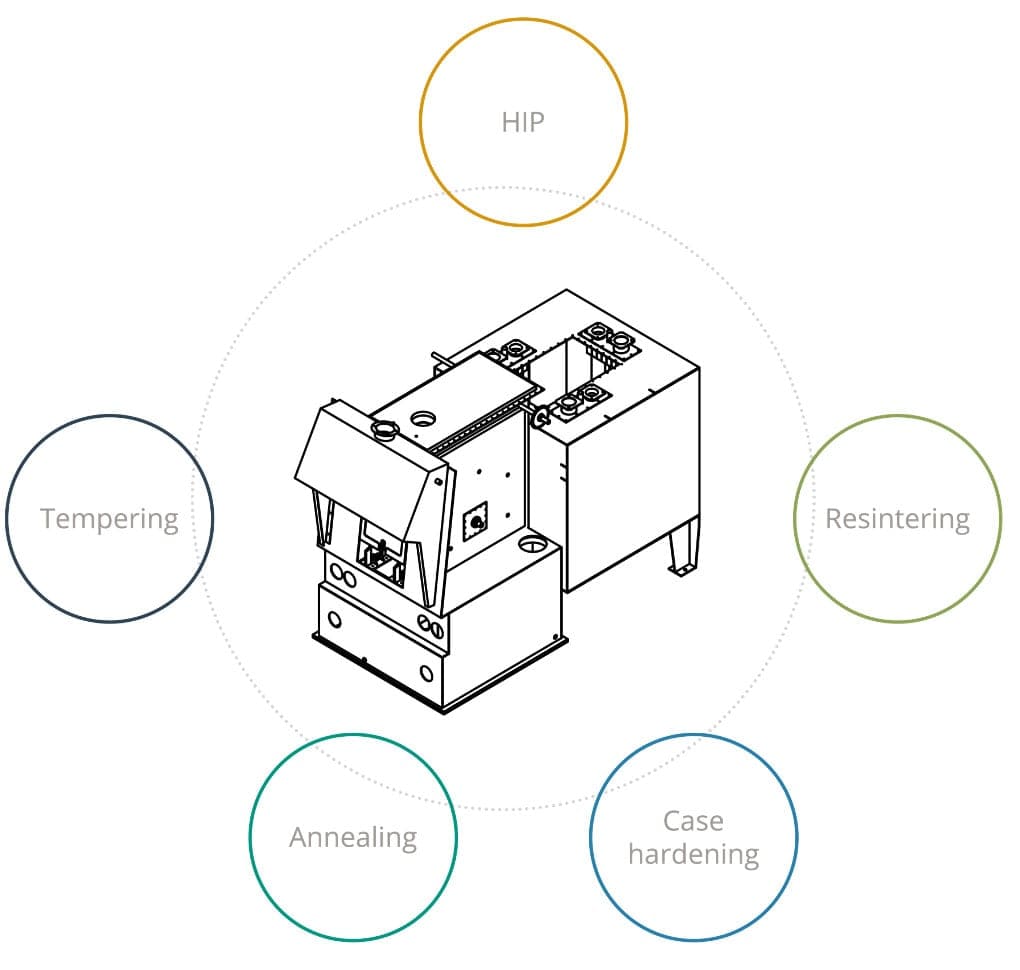 Hot isostatic pressing (HIP) is a secondary process used to increase the density of MIM components after sintering, to increase the ductility and fatigue resistance of high-end materials. Under typical pressures between 400 and 2,070 bar and temperatures up to 2 000 °C materials can reach 100 % of its maximum theoretical density.

Resintering is usually made at higher temperature and under conditions similar to those of the first sintering operation. It relieves stress or removes the mechanical constraints imparted during coining or repressing and for further densification.

Hardenability for a wrought material can be defined as the capacity of the microstructure of a metal to be transformed from austenite to martensite at a given depth when cooled rapidly. In wrought materials hardenability is mainly controlled by the chemistry and the grain size, whereas on sintered materials is it linked the porosity.

Carburizing is a heat treatment in which the carbon content of the surface of a low-carbon steel is increased by exposure to an appropriate atmosphere at a temperature in the austenite phase fields. Nitriding is a surface hardening heat treatment that introduces nitrogen into the surface of steel while it is in the ferritic conditions.

Carbonitriding is a surface hardening heat treatment that introduces carbon and nitrogen into the austenitic steel.


Discover Metal and Ceramic 3D printed parts
---