Use cases

Real Materials. Real Applications.
Polymer Metals and Ceramics
Strong mechanical properties
Rentability

Medium batch
Injection moulding vs Pam technology
Brake Handle – HPP*
*High Performance Polyester
The first benefit of producing with a Pam factory is that first parts are available the day after design delivery. It allows proceeding to very quick quality tests and validate geometry and material of the part. Quality issues can be addressed very soon and design improvements are easy to implement.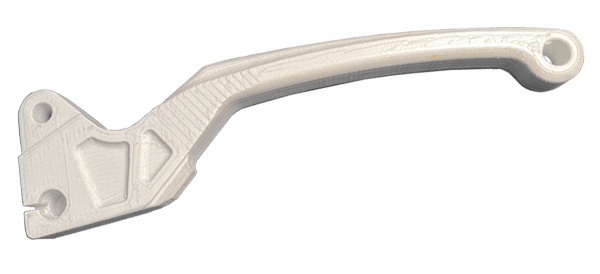 With Pam technology, one brakle handle is printed in 4 hours with a printing profile using 0.4 mm nozzle and 0.2 mm layer height. 4 parts can be printed in a cycle of 12 hours per Pam system.

Regarding material cost, Pam technology is using the same material as the injection moulding. A part will have the same material cost on both equipments.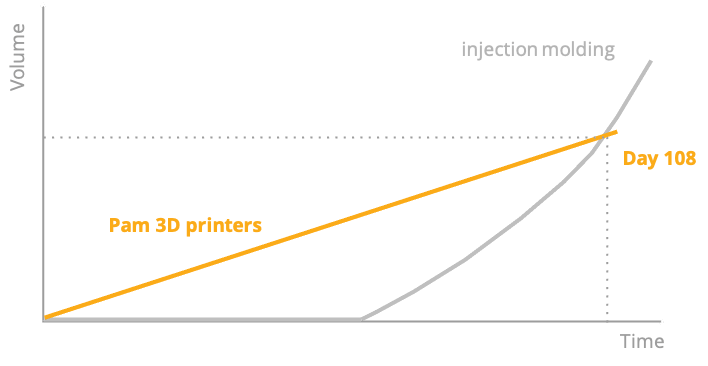 We are considering the following datas:
- 35 $/hrs hourly rate;
- 3% defects rate 3% for both equipments;
- Effective working time of 10 minutes per cycle with Pam technology;
- Injection moulding is working with one operators per cycle of 8 hours, 3 cycles are made per day.

As a result we determine that, with a Pam factory composed of 8 Pams systems, Pam technology is cost-effective up to 12 000 parts and is more productive than injection moulding during the first 118 days after design delivery, which represent 7 600 parts.
---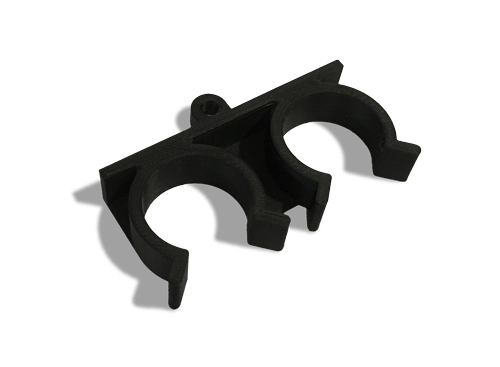 Hose Clamp – ABS
Dematerialize warehouses by manufacturing spare parts with commodity material at competitive price with a technology allowing on demand and local production: New Pam Series P.
| Price per | Pam | Injection Moulding |
| --- | --- | --- |
| 100 | $2,46 | $98,94 |
| 1000 | $2,12 | $10,55 |
| 10 000 | $2,02 | $2,03 |
Pam allows production at

lower cost

than injection moulding

up to 10 000 pieces

for this part.
Focus on KPIs
Soft material demonstrator
The Pam technology is the first 3D printing technology able to transform very low hardness materials. An octopus production was made internally on a New Pam Series P to demonstrate its capacities.

Used material: TPE TFOSTL (30 shore00)


Printing parameters: one extruder - 0.8 mm nozzle - 0.4 mm layer height - 25 minutes for 1 part

Production parameters: 5 parts per cycle - Transition between two productions: 1 minute (parts removal and new printing cycle launch).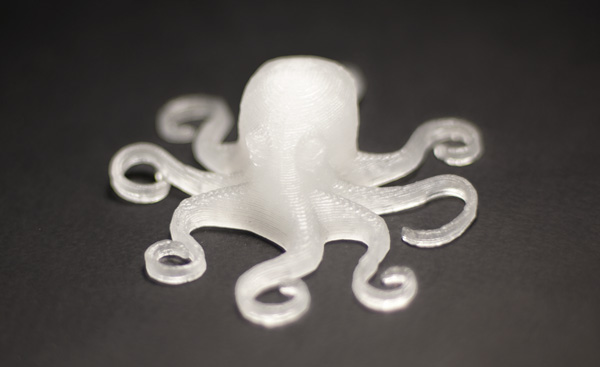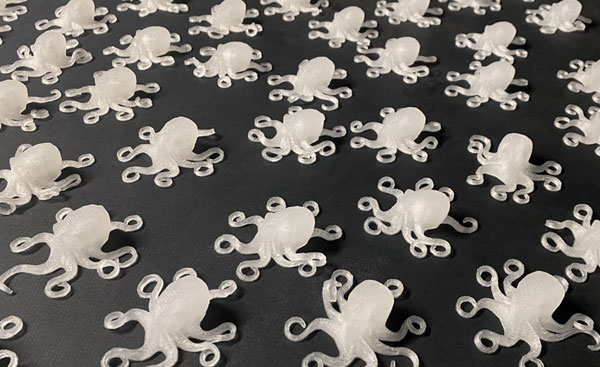 Production KPI
New Pam Series P is working 12 hours a day including 4 cycles per day and 1 cycle per night with no printing failure.

Availability rate = 94%
Performance rate = 99%
Quality = 100%

We observe an OEE (Overall Equipment Effectiveness) of 93% which demonstrates the reliability and robustness of Pam technology with a good machine setup.
Production capabilities
To evaluate our capability we focus on part weight. Indeed with such soft material contact measurements are not efficient.

The input model used gives a weight of 10,8g per part. We are considering a tolerance of ± 5% so a part is acceptable between 10,3 to 11,3.

We weighed a population of 65 parts and obtained the distribution shown in the graphic (normal distribution). The normal distribution observed gives good results in capability: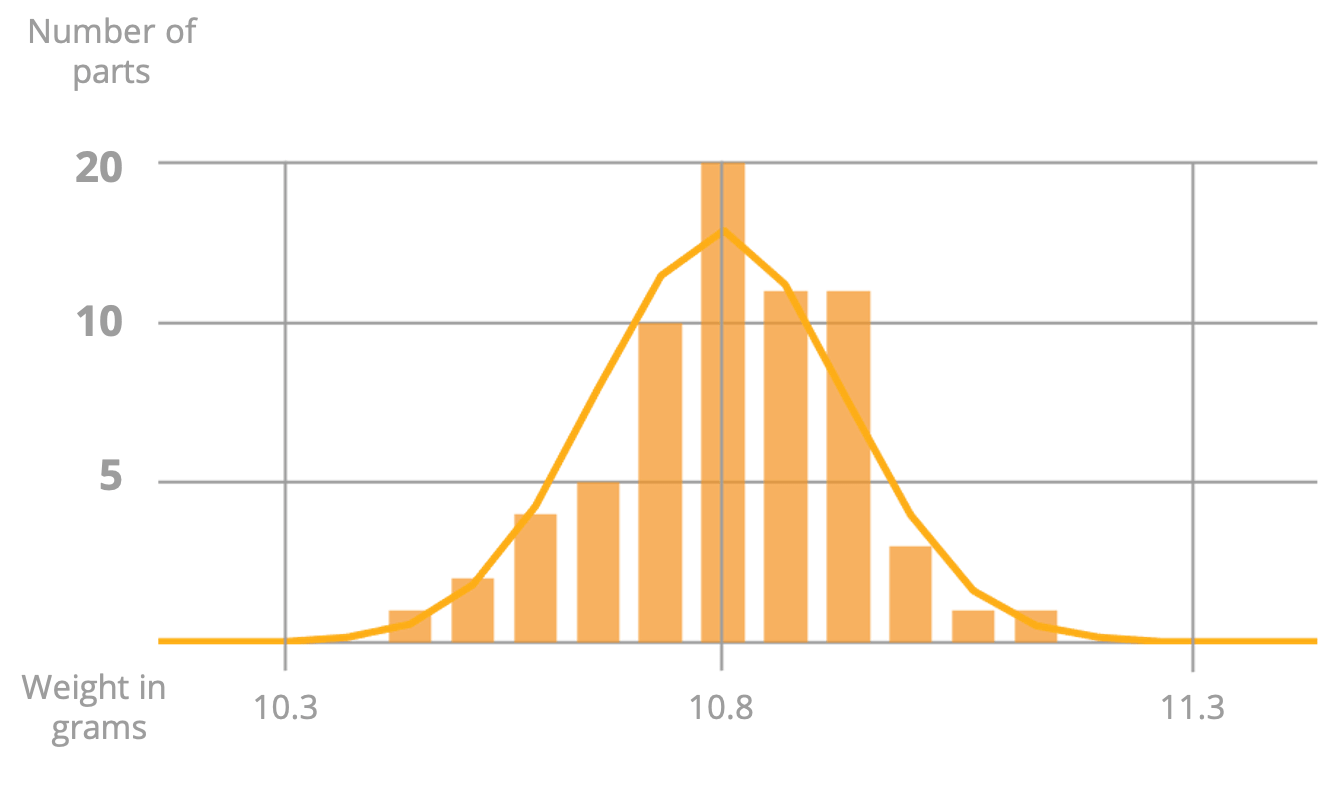 New Pam Series demonstrates industrial level of capability and centring.
---
Personalized Product
Orthopaedic Sole – TPU & PVA
The Orthopaedic Sole—here in a scaled-down version— demonstrates capabilities of Additive Manufacturing for producing personalized goods for individuals. With its unequalled capabilities in treating elastomers, Pam Series P can produce such parts with real hardness properties exploitable by professionals.
Printing Time

4 hour 41 minutes

Material Cost

$2,28
---
On-demand production
Cosmetic Packaging

This Make-Up Pot has been built with PLA, a biodegradable and bioactive material derived from natural resources.
Printing Time

3 hour 28 minutes

Material Cost

$0,63
---
Automotive Spare Part

This part is a small clip for fastening the rear shelf of a 70s car. The part does not exist anymore and could be reproduced and improved over the original model.
Printing Time

1 hour 22 minutes

Material Cost

$0,12
---
Trusted by