Standard materials
& elastomers
A new level of creativity
New Pam Series P is using standard thermoplastics from all chemical companies and custom developped ones.

With 4 extruders, New Pam Seris P allows unprecedented applications: multi-material, properties combination, advanced support...
Multi materials
Up to 4 simultaneously
Smart Support
Enabling complex parts
---
New

print head

Our printhead is redesigned for better visual control
and precision. We also improved the cooling architecture.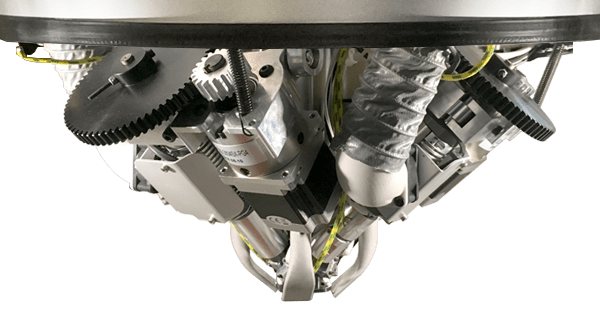 New

holding mechanism


One screw opening mechanism for easy extruder removal. Reinforced machined aluminum parts with ball bearings integration for more precision.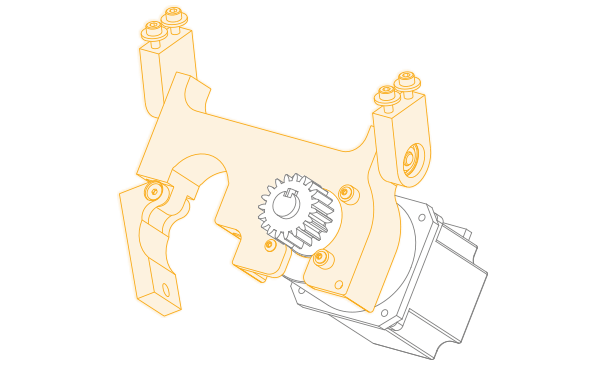 New

lifting mechanism


All in-one stainless steel wire rope with eyelet and easy one screw removal for maintenance.
---
New

material cartridge

Integrated cartridge opening mechanism for pellets refill on the fly. Ideal for big print jobs or to plug directly on industrial pellet feed silo.

New hopper base geometry for increased cooling performances and better pellets flow.
---
New

build plate

Our build plate is redesigned for better maintenance
and dimensional accuracy.
New

assembly configuration


Easy build plate replacement and micro-perforated option dedicated to materials with strong warping effect.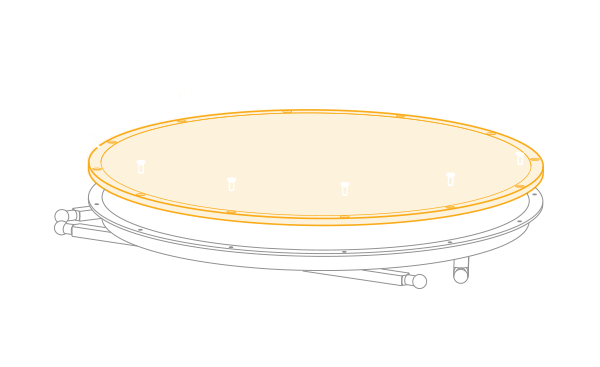 New

carbon rods


Assembly jigs are redesigned for improved carbon rods dimensional accuracy and repeatability.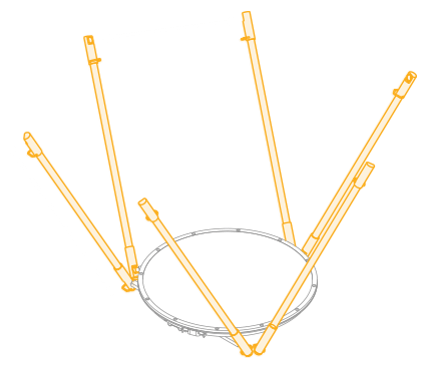 ---
New

electronics and wiring

Each extruder is controlled by two electronics boards. One is dedicated to low voltage heating elements and the second is dedicated to extra-low voltage such as motors, fans and temperatures sensors.

Pam Series P wiring is redesigned for increased robustness and printing repeatability.
---
New Pam Series P


Technical specifications

| Technology | PAM (Pellet Additive Manufacturing) |
| --- | --- |
| Compatible materials | Injection moulding grades polymers |
| Material cartridge | 4 - standard |
| Extruders | 4 - low shear |
| Build volume | Ø300mm x H300mm (21x106 mm3) |
| Nozzles size (mm) | Ø 0.25 - 0.4 - 0.6 - 0.8 - 1 - 1.2 |
| Resolution | 40µm (Z) and 5µm (X,Y) |
| Software | Cura by Pollen AM - Honeyprint |
| Max. extrusion temperature | 350°C |
| Max. Buildplate temperature | 120°C |
| Envelope | Multiply plywood moulded |
| Max print speed | 160 mm/s |
| Power | 2000 W |
| AC input | 230 V ~ 8 A – 50Hz |
Get a quote
Performance
materials
For demanding industries
New Pam Series P HT is using performance thermoplastics taking special care of high temperatures.

Dedicated to advanced applications, New Pam Series P HT is pushing engineering challenges forwards.
---
New

print head

Our interlayer heating device is designed to increase Z direction mechanical performances. It keeps a warm zone over the part and preserve good adhesion between each layer.

A new high sheer extruder is dedicated to semi-cristallin materials for better flow control.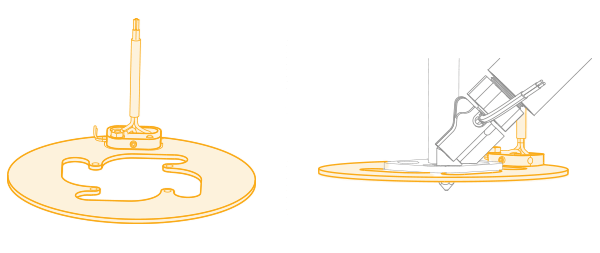 ---
New

frame and casing

The build volume is enhanced with new metallic casing and new heat treatment for high temperature materials.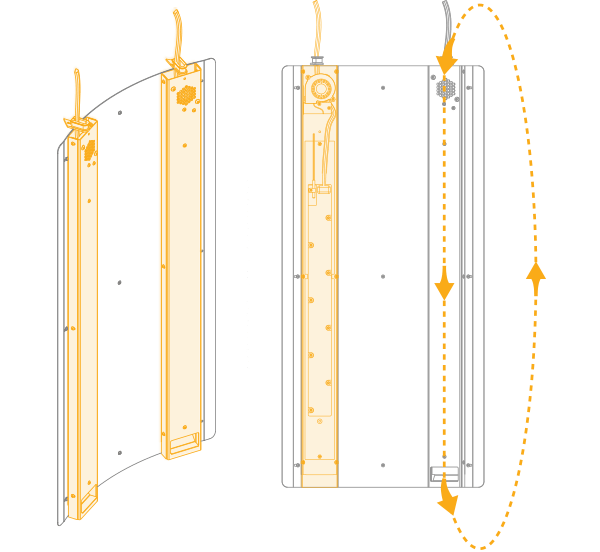 New

heating room


Specially designed forced convection heating room device: hot air is recycled from inside the build volume for increased thermal regularity.

Heating room temperature control is integrated in Honeyprint software for easy set-up. The maximum temperature is 80°C.
New

metal skin


New Pam Series P HT has a brand new metallic and insulated casing. Our team has developed the original wooden casing with great insulation performances without additive heated build chamber.

In regards of improving thermal regulation and increasing maximum room temperature we completely rethought our position towards new casing materials. Insulation plates are made out of glass wools and overlapping casing is in aluminum. This enables the best heating performances for the build volume and rapid rise in temperature.
---
New

electronics

The electronics benefit from the same improvement as New Pam Series P with two extruder boards and new wiring. In order to increase robustness and fine control over extruder boards, a specific casing and cooling is necessary.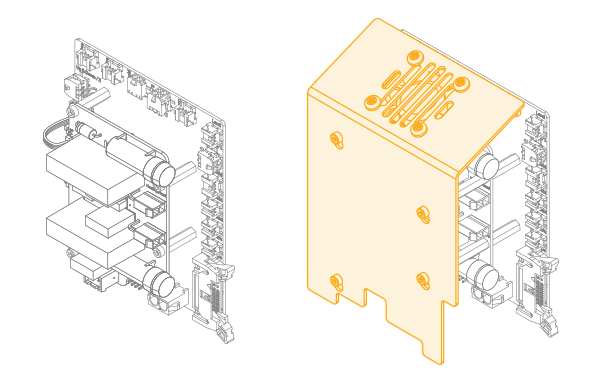 ---
New Pam Series P HT


Technical specifications

| Technology | PAM (Pellet Additive Manufacturing) |
| --- | --- |
| Compatible materials | Injection moulding grades polymers |
| Material cartridge | 2 High temperature |
| Extruders | 2 high shear |
| Build volume | Ø300mm x H300mm (21x106 mm3) |
| Nozzles size (mm) | Ø 0.25 - 0.4 - 0.6 - 0.8 - 1 - 1.2 |
| Resolution | 40µm (Z) and 5µm (X,Y) |
| Software | Cura by Pollen AM - Honeyprint |
| Max. extrusion temperature | 450°C |
| Max. Buildplate temperature | 150°C and 250°C in option |
| Envelope | Double skin metal with thermal insulation |
| Heating Room | Up to 80°C |
| Radiant Disc | Up to 300°C |
| Max print speed | 160 mm/s |
| Power | 3500 W |
| AC input | 230 V ~ 8 A – 50Hz |
Get a quote