New

Pam Series P


Polymer Additive Manufacturing




More precision, robustness and repeatability
Pam is the additive manufacturing technology capable of printing raw materials as pellets, the industrial standard.
New Pam Series P is redesigned with our latest hardware enhancement.
Pellets

The industry standard
New Pam Series P is using existing polymers from all chemical companies and custom developped ones.
By using your original materials, high diversity manufacturing becomes an economical reality.
Multi-material

Up to 4 on a single part
With 4 extruders, New Pam Seris P allows unprecedented applications.
Multi-material, properties combination and advanced support enable a whole new level of creativity for demanding industries.
Use Case

Hose Clamp – ABS
Dematerialize warehouses by manufacturing spare parts with commodity material at competitve price with a technology allowing on demand and local production: New Pam Series P.
| Price per | Pam | Injection Moulding |
| --- | --- | --- |
| 100 | $1,04 | $98,94 |
| 1000 | $0,94 | $10,55 |
| 35 000 | $0,93 | $1,00 |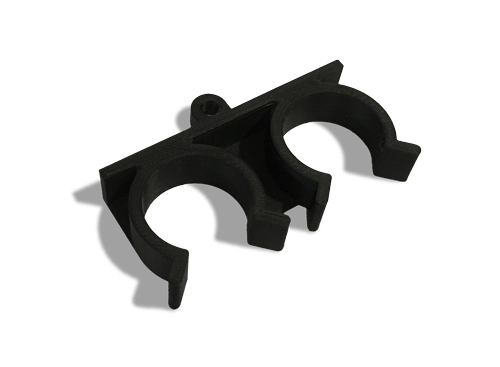 Pam allows production at

lower cost

than injection moulding

up to 35 000 pieces

for this part.
New

Pam Series P


The latest hardware enhancement
New

Pam Series P


The latest hardware enhancement
New

print head

- Reinforced holding and lifting mechanism
- New cooling architecture
- Better maintenance and visual control
- Interlayer heater option
New

build plate

- Increased dimensional accuracy
- Up to 150°C heat resistance
- Micro perforated build plate option
- Easier build plate replacement
New

material cartridge

- Pellets refill on the fly
- Easy insertion guide
New

frame and casing

- New cooling architecture
- Non-static sliding doors
- Metallic casing option
- Heated build volume option
New

electronic and software

- Extruders boards and wiring redesign
- Interface integration of options control
Multi materials
Up to 4 simultaneously
Smart Support
Enabling complex parts
Tech Specs
Build Volume (mm)

Ø 300 H 300

Z Layer Resolution (µm)

from 40 to 400

Nozzle Sizes (mm)

0.25

|

0.4

|

0.6

|

0.8

|

1.0

|

1.2
ABS – The Industry Standard

Acrylonitrile butadiene styrene
Unbeatable cost
ABS is one of the most used polymer of all industries. It offers interesting mechanical properties but is also very affordable.

New Pam Series P allows printting of this commodity material at 10x lower material cost than filament equivalent.
110% of mechanical properties
Thanks to its excellent thermal handling of material inside the system, New Pam Series P is capable of unbeatable material performances.
In ABS, characterization showed that parts printed with New Pam Series P have 110% of the mechanical properties of the same injection moulding part.
TPE - Elastomers

ThermoPlastic Elastomer
Unbeatable variety
No other 3D printing technology is capable of treating as much variety of elastomers as New Pam Series P.

Once again thanks to its excellent thermal handling, with such low resident time, it produces better elastomer parts.
Isotropic Behavior
Specific propertis of elastomers are used in a wide variety of industries, especially with low shores. New Pam Series P processes those with excellent inter-layer cohesion.
These participate to the isotropic behavior that has been demonstrated for TPU tensiles.
Multimaterial

At the heart of the slicing process
Slicing software
New Pam Series P uses a well known open-source slicing solution.
And slicing — the parts preparation process — is the first step to produce parts, particularly multi-material parts.
With its 4 independant extruders, New Pam Series P allows to produce either a single part with a single material, multiple parts with multiple materials, or a single part with different materials.
Step 1 : Loading the part to be printed by extruder 1
Step 2 : Loading the second part to be printed by extruder 2
Step 3 : Merging parts to obtain a multimaterial model
Step 4 : Generating support with extruder 4 if needed
Multi-properties
Thanks to its multimaterial capabilities, New Pam Series P can produce parts combining properties: soft touch with a rigid structure or mecanical part woith a sealing property.
Special mention has to be made to smart support (or PVA) which allows creation of complex parts where support can be dissolved after building by simply putting the piece in water.
Honeyprint

Custom software for demanding industrials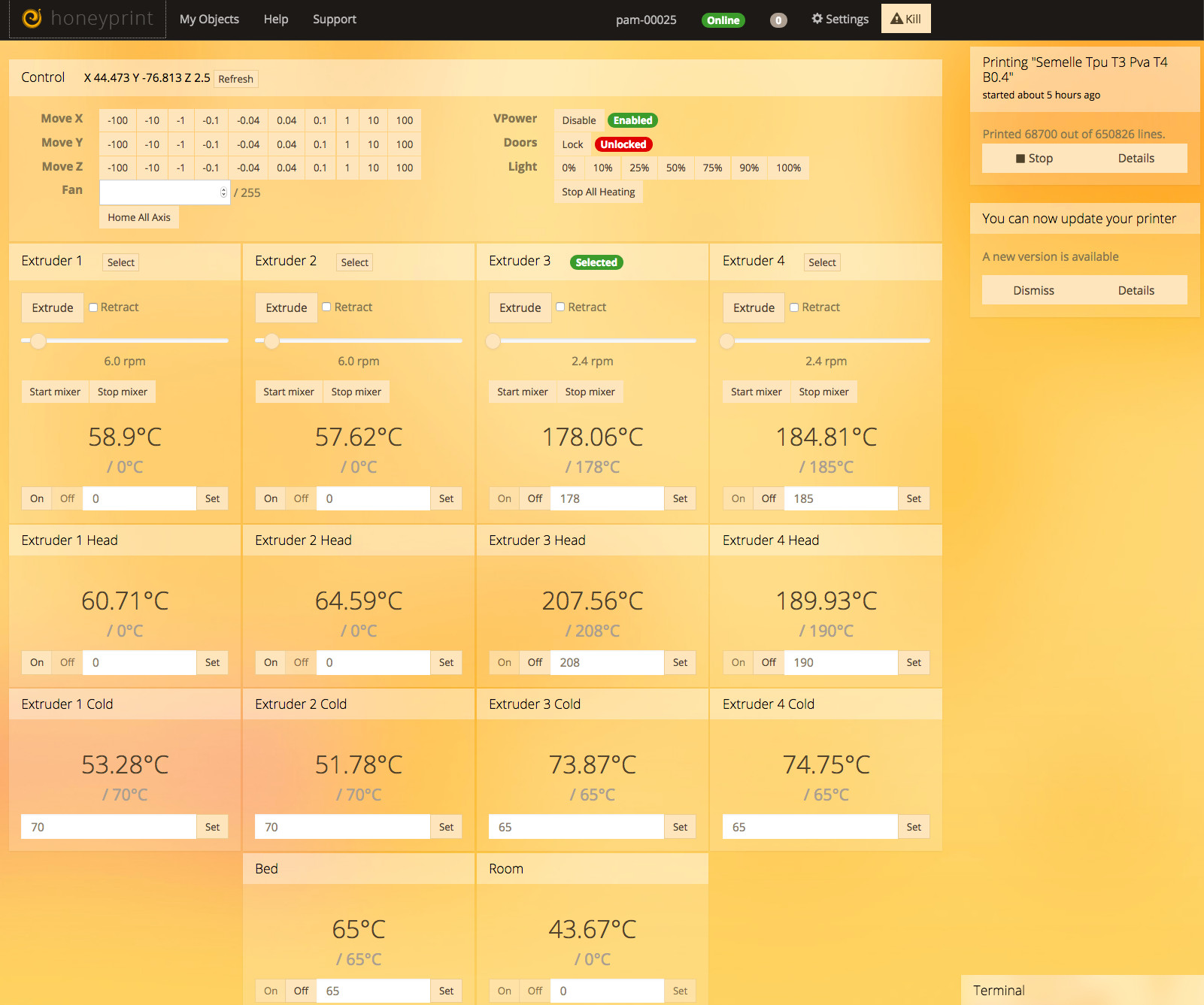 Autonomous system
Thanks to its web-based interface, Pam Series P and Pam Series M can ban controlled by any device, locally or remotely.

It is also completely autonomous. No dedicated additional equipment is required and one operator can control multiple systems.
Open and powerful
Honeyprint, the software at the heart of Pam series P and Pam series M has been specifically engineered from the ground up for its technology. It allows to have the most control on the system.
Plus, its API allows custom interactions and integration into existing industrial workflows.