Pam Series M

Metal Additive Manufacturing
The most affordable Metal Additive Manufacturing solution.
Any industrial looking for metal production of small and medium series parts has some obstacles to face.
Pam Series M is the right balance between functionality, scalability, rentability in order to make metal 3D printing integration successfull.
Low Machine Cost

Low Materials Cost
Additive Manufacturing has always been the solution of choice when producing highly diverse parts.
Pam Series M uses standard MIM metal feedstock pellets at industrial price. Add the fact that the machine has the most competitive price on the market, and you obtain the only solution capable of going to straight production for small and medium scale series metal parts.
Industrial materials

For industrial applications
Pollen AM has sourced the best existing MIM (Metal Injection Moulding) metal feedstock from the leading expert chemical companies. Start producing with Stainless Steel, Titanium, Tungsten and more, with the expected quality output of MIM technology.
20x less expensive than machining. 2x less expensive than other MIM-like AM technologies.
Pam Series M: Hardware

When Pam meets MIM
The Power of Pellets
All the qualities of the Pam technology are available in Pam Series M. By using pellets, it has access to industrial chemistries with no modification, at the price of industrial quantites.
And with its 12 points of thermal treatment, Pam Series M printhead is handling materials with refinement.
Pam Technology. Evolved.
Pam Series M is the latest evolution of the Pam technology, and the result of 5 years of Research and Development.
Tailored for metal 3D printing, it relies on an even stronger build quality, handling more challenging materials, and can be deployed « as-is ».
Tech Specs
Build Volume (mm)

Ø 300 H 300

Z Layer Resolution (µm)

40

Nozzle Sizes (mm)

0.25

|

0.4

|

0.6

|

0.8

Room & build plate

Heated and controlled
Tech Specs
Build Volume (mm)

Ø 300 H 300

Z Layer Resolution (µm)

40

Nozzle Sizes (mm)

0.25

|

0.4

|

0.6

|

0.8

Room & build plate

Heated and controlled
From metal feedstock to a fully dense metal part

Based on a well known process
By using the exact same MIM metal feedstock from the most advanced chemical companies, the process of removing the polymer matrix and sintering the part is entirely similar to Metal Injection Moulding, with 20% uniform part reduction.
In a nutshell, the core difference is that you do not rely on a mould.
Pam Series M is compatible with: 316L Stainless Steel, 17-4 Stainless Steel, Titanium and more to come.
MIM Metal Feedstock
Printed Green Part
Debinded Brown Part
Final Sintered Part
3D printed parts — the Green Part — need to go trough a chemical debinding phase — to obtain a Brown Part — which is then sintered at high temperature to obtain a metal — or Sintered — part. The result is a fully dense metal part (>99%).
The final sintered part is 100% metal.
A competitive solution

On the whole product lifecycle
Highly cost effective
Pam Series M is the most affordable metal additive manufacturing solution on the market.
The hardware is up to 20x less expensive than existing solutions.
Materials are up to 5x less expensive.
As a result, small and medium scale production of metal parts become highly profitable.
Ready for scaling
The strengh of Pam Series M is that it uses the exact same materials already used with Metal Injection Moulding (MIM).

This allows demanding industrial to start working immediately with a well known process, backed by the most technical chemical partners. Then keep the material when scaling to Metal Injection Molding (MIM) for higher volumes.
Four different extruders

Enabling highest resolution at highest speed
The slicing process used by Pollen AM with Pam Series M allows industrials to prepare their parts using up to 4 different extruders, each with a different resolution.
Parts prepared this way can be printed at the highest speed with no compromise between speed and mechanical properties.
Fine nozzle used for external shell and layers (brown)
Bigger nozzle used for infill (gray)
Honeyprint

Custom software for demanding industrials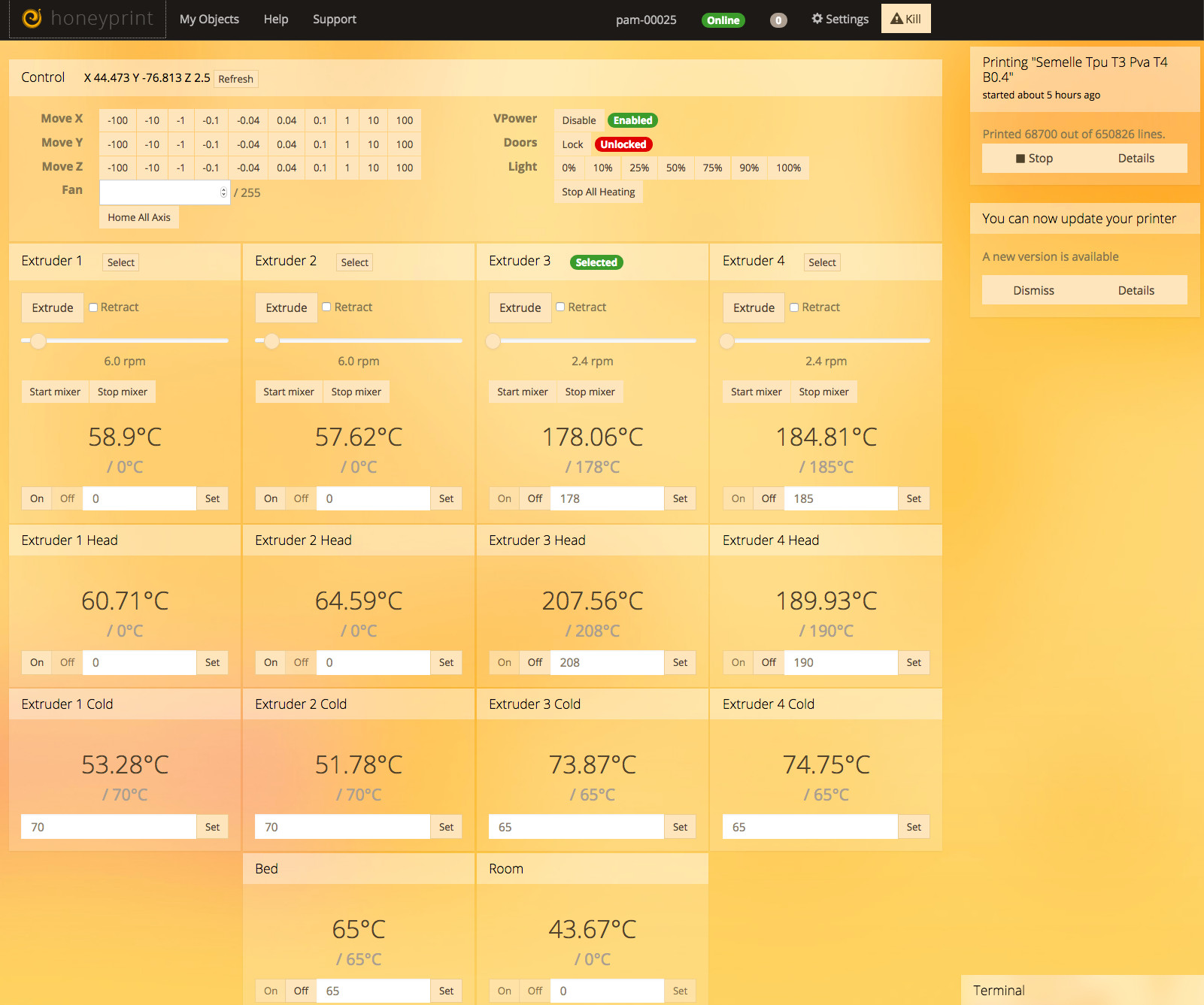 Autonomous system
Thanks to its web-based interface, Pam Series P and Pam Series M can ban controlled by any device, locally or remotely.

It is also completely autonomous. No dedicated additional equipment is required and one operator can control multiple systems.
Open and powerful
Honeyprint, the software at the heart of Pam series P and Pam series M has been specifically engineered from the ground up for its technology. It allows to have the most control on the system.
Plus, its API allows custom interactions and integration into existing industrial workflows.