Materials with Pam Technology

Two ways of working with it
Ready to print: validated by Pollen AM
Pollen AM offers for sale a selection of materials that are ready to start with the Pam Technology and for which printing profiles are provided. This means that Pam users can start printing parts to obtain immediate results with Pollen AM materials.

The printing profile portfolio is continuously updated by Pollen AM.
Going further: open to specific materials
The Pam Technology isn't limited to Pollen AM's printing profile and materials. Pam gives to users a full control of printing parameters. Thanks to our training footpath, operators can achieve autonomy with their systems and develop their own printing profile according to the materials or the particular resolution required.
Industrials can then produce parts with their injection grade materials.
Thermoplastic materials classification
From standard to high-performance thermoplastics
Pam is a technology dedicated to industrial materials with thermoplastic behavior treatment; from injection moulding thermoplastics to PIM feedstocks.

Thermoplastics are usually classified into different categories according to their polymer families and their temperature resistance.
There are three polymer famillies: amorphous, semi-crystalline and elastomers, they are subdivided into three thermal categories : standard materials, performance materials and high-performance materials.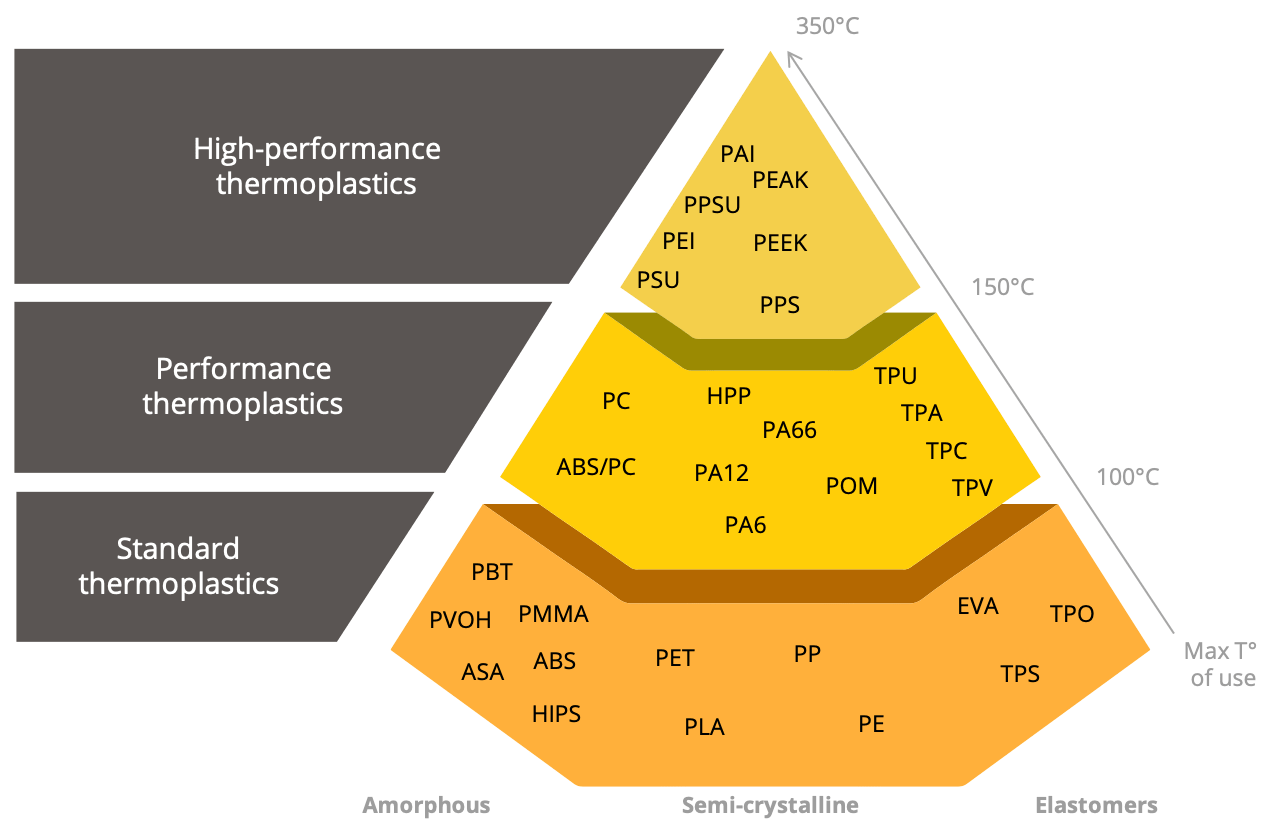 Thermoplastics with an amorphous structure are generally transparent and tend to be less sensitive to crack propagation (higher toughness). Due to their high dimensional stability, they are suitable for precision parts.

Semi-crystalline thermoplastics are generally opaque, rigid and have good chemical resistance.

Thermoplastic elastomers (TPE) are a category in their own right due to their heterogeneous structure consisting of flexible and rigid domains, they are located halfway between crosslinked elastomers and thermoplastics.

As a dedicated technology inspired by micro-extrusion techniques, the Pam Technology is meant to 3D print most kind of thermoplastic polymers.